Norman Faulkner
Norman Faulkner 2010
Artist, Musician, Meditation instructor, Mentor, Grandpa and just a solid guy!
Just about every glass artist in Western Canada has had the opportunity to be taught, interact and just have a laugh with the witty gentle man.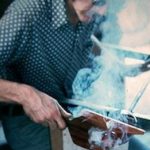 1973- Wooden paddles were used back then before metal Jacks.
Glass India , Videos by Norman Faulkner!
Available for purchase here.
Volume 1
Volume 2
read more
CORPORATE SPONSORS and MEMBERS
NEXT MEMBERS NIGHT- SUNDAY SEPT 29TH 4pm-10pm
We are looking for our 2019-20 Corporate sponsors……WANT TO HELP US OUT?
Give us a call! 403-371-4549
or
EMAIL US
WE OFFER CNC CUT GRAPHITE MOLDS FOR CORPORATE GIFTS!
2018/19 Corporate Sponsonrs:
BLOWN AWAY TV SHOW…NOW ON NETFLIX!
WATCH IT NOW
read more
MEMBERS NIGHTS 2019
Hello Glass People!
As summer comes to a close and we are about to get the studio ready and going for the winter glass blowing season. This is when we do our membership drive.
Sales from our Membership help kick start the studio, buy glass and finish any repairs or upgrades we are doing. So please help us get started ASAP!!!!!
Please join our MEMBERSHIP 2019 ASAP!  
THIS IS NOT OPEN TO THE PUBLIC!
This is for us glass people ONLY.
This is to experiment, collaboration, connections, and for newer people to experience glass with skilled assistance!
This is for our GLASS community!
This is to connect us and to grow the our connection and experience.
Sept-April- ONCE A MONTH! 6Hrs of OPEN STUDIO TIME!
MEMBERS 2019
Norman Faulkner (Honorary member)
Cory Porterfield
Brian Hamilton
Lynn Jennyc
Donna Duprius
Thomas Aves
Diane McNiven
Ian Borg
Trever and Vickie Jacobs
Khethwen Woo
MEMBERS NIGHTS
SEPTEMBER SUNDAY 29th 4-10pm!!!!
OCTOBER- TBA
NOVEMBER- TBA
DECEMBER- TBA
JANUARY- TBA
FEBRUARY- TBA
MARCH-TBA
APRIL-TBA
read more