In the age of technology and Carbon foot prints ALL businesses and groups should be looking at finding ways to develop new and cheaper ways to get the same results, cheaper and more efficant. Norman is helping us all learn more and do more here!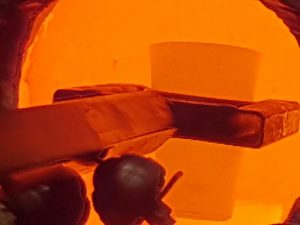 HEAT RECUPERATION: We are working on developing a heat recovery systems that is the most effective for Glass studio and the surrounding space!
GLASS FORMULA: We are working on Developing a formula, that will turn Float glass into 96 COE. Then it is compatible with our colours and allow us to recycle "window" glass and make it into "blowing" glass. Norman is bringing some old formula back into the fold!
WASTE GLASS: We are currently developing our waste glass, including moils and "floor models" into art again!
OIL HEATING: This is and area we need to look into!
Please feel free to share your ways to build the ultimate "GREEN" Studio!
Email us
Love what these guys are developing:
https://www.mobileglassblowingstudios.com/#/