Norman Faulkner 2010
Artist, Musician, Meditation instructor, Mentor, Grandpa and just a solid guy!
Just about every glass artist in Western Canada has had the opportunity to be taught, interact and just have a laugh with the witty gentle man.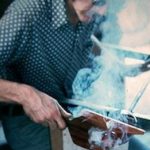 1973- Wooden paddles were used back then before metal Jacks.
Glass India , Videos by Norman Faulkner!
Available for purchase here.
Volume 1
Volume 2